Crown Reduction Pruning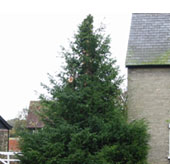 Crown reduction techniques to balance soil conditions and water demands near to building are aspects of Suffolk Tree Services Ltd. in constant demand. In many instances sensitive crown reduction can allow the continued conservation of trees where structural problems might otherwise demand the loss of a valuable tree. Crown reduction pruning is often required to compensate for loss of root viability on development sites. Suffolk Tree Services Ltd. can advise and carry out all appropriate uses of this technique.
Suffolk Tree Services offer a wide range of tree surgery, for more information on these, please navigate to the relevent sections below or contact us directly on 01787 319200.